Free Download: The Email Lead Nurture Cheat Sheet
Want to use the power of email marketing automation but not sure where to start?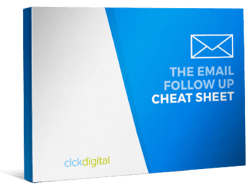 Grab our email follow up "cheat sheet" to give you a head start. Nurture leads on autopilot after they download an offer from your website. Set and forget – simply edit these email templates and upload them into your email manager (e.g. Mailchimp, ActiveCampaign, HubSpot, etc.), then sit back and watch as they nurture your contacts, building trust and engagement with each email.
What's inside the cheat sheet:
8 complete emails to send to a subscriber after they've downloaded something from your website (including sample body copy you can customise and make your own)
Tested, proven subject lines to use for each email to ensure the recipient actually opens the email (without you resorting to cheap tricks)
Detailed timing guidelines on how many days apart to send the emails for best results
The ONE email you must send the very next day to guarantee huge results…
This cheat sheet of proven lead nurture emails has it all mapped out for you. Finally you'll be able to implement a true "set and forget" automated email follow up sequence that gets results for your business without being sleazy or pushy.
Enter your details for instant access to the cheat sheet...
Enter your details for instant access to the Email Follow Up Cheat Sheet.
We guarantee 100% privacy. Your information will not be shared.